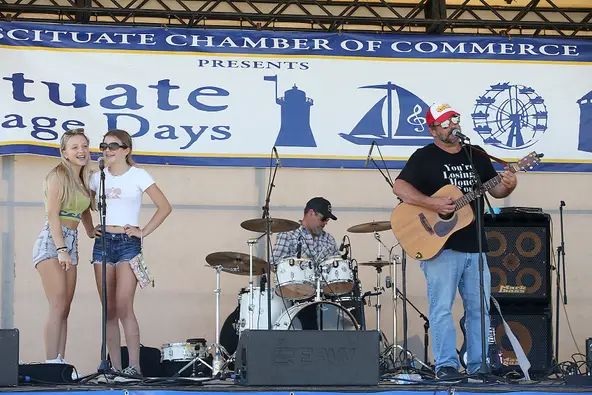 Hello folks,
Thanks to the Boston Globe for talking about my 2022 Highwayman travels. You can read their interview with me at https://www.bostonglobe.com/2022/08/04/metro/pembroke-musician-takes-highwaymen-road/
I've had an incredibly busy music summer that continues on in August. In addition to playing a boatload of Highwaymen gigs, I also released my new album, Gently Used, in June. The album has received some really great reviews and airplay. I'm looking forward to performing a few gigs this month performing some of the songs from the album. You can listen to the album at https://album.link/i/1615681248 
 I did a full band show (with my wife on bass) at Heritage Days in Scituate this past Saturday. I haven't done a full band gig since before COVID and I've always enjoyed attending Heritage Days, so it was cool to be a part of....cool is the wrong word though, because it was about seven million degrees onstage. Nonetheless, this picture above of me singing Willie Nelson's "On the Road Again" with my daughters was worth the heat stroke.
I'll also be doing solo gigs at Levitate Backyard in Marshfield on Friday, August 12nd and at Bridgewater Music Alley on Thursday, August 25th 
I've included a couple of links to recent performances that I did in July. The first one is a performance at the beautiful library in South Hadley, MA. We had a great crowd and it was a fun night. You can watch it at https://vimeo.com/channels/shctv15/730165089 
This second video is from an outdoor performance on a beautiful summer night at the Ames Library in Easton, MA. I had done the Highwaymen there a year ago and it was the first time I've returned to a place and done it a second time  https://youtu.be/syCD20-qCjE 
I should have the book available on Amazon soon. In the meantime, if you're interested in purchasing one, you can do so at this link. 
One of my favorite Willie Nelson songs is a song called Me and Paul". It was written about his longtime drummer/best friend Paul English. When I was younger, I had a music friend named Paul and we did a lot of growing up together traveling around playing music. Paul was not only Willie's drummer, he was also his enforcer. If Willie wasn't getting paid after a gig or someone was giving him a hard time, Paul handled it. Anyways....this article about their relationship is something that might be of interest to some of you. https://oxfordamerican.org/magazine/issue-87-winter-2014/watching-willie-apos-s-back 
​August Dates are below: 
August 6th​ Heritage Days (not a Highwaymen gig)​​ 
August 10th (Wed) Acushnet Library 
August 11th (Thurs) Fairhaven COA at 1 pm 
 August 12th (Friday) Levitate​ in Marshfield (not a Highwaymen gig) 
August 13th Middlefield ​http://middlefieldfair.org/​ 
August 14th (Sunday) Pembroke Arts Festival 1-2 
August 14th (Sun) Anna's Harborside 7-10 (not ​Highwaymen) 
August 15th (Mon.) Spencer outdoors at a park 
August 17th (Wed.)  Methuen COA 1-2 
August 17th (Wed.) Winthrop 6:30 to 8pm Ingleside Park Gazebo 
August 18th (Thur​​s.) Attleboro Capron Park 6:30 - 8:30 
August 20th (Saturday) 1pm Longmeadow Library 
August 20th (Saturday)  7pm indoors at Mt. Washington Town Hall 
August 22nd (Monday) Somerset at 6pm 
August 25th (Thursday) Bridgewater Music Alley​ (not Highwaymen)​ 
August 27th (Sat) 5pm Leyden Library 
August 28th (Sun.) 4-6  Topsfield Gazebo 
August 31st (Wed) Lynn Senior Center 11am